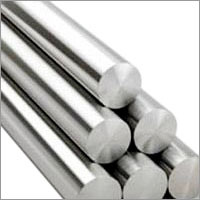 Aluminium Extruded Round Bars
Product Code : 23
Product Description
Based in Mumbai, we are reckoned as a prestigious Distributor, Supplier, Importer and Exporter of excellent Aluminum Extruded Round Bars. These are massively used in construction works, decoration work, transportation department, door and window designing work. These are offered with anodized or powder coated finishing, and are preferred for their wear and rust proof design, unique hardness level, rapid heat dissipation technique, dimensional accuracy and convenient installation system. The standard quality of these Aluminum Extruded Round Bars have been verified on the basis of their functional life and durability.
Key Attribute:
Longer service life
Easy to maintain
Supreme quality
Seamless finishing
Further Details:
We are providing Aluminium Extruded Round Bars for any practical use, which can also be customized to required sizes as per the demand by the customer. These bars are formulated from the components like magnesium and silicon, which create our products highly rust retardant. Our range is considered for many application for its strength, easy machining & drilling, heat treat-ability, moisture resistant and weld-ability. Due to the unique characteristics of our products, they are widely utilized in manufacturing heavy-duty equipments where resistance against corrosion is necessary like marine and truck components, furniture, railroad cars, tank fitting, wire items, pipelines and many others. While our gamut is in annealed situation then stamping, spinning, bending and deep drawing are easy to accomplished by using normal tools or methods. Generally, gas tungsten arc welding and gas metal arc welding is necessary to weld thin and heavier portions, respectively. Further, when bulk production relies on externally provided products, we are the foremost selection among other companies of Aluminium Extruded Round Bars.

Salient Features:

Strong formation and light in weight.
Easy malleability that makes it easy to use for any purpose.
High tensile strength and rust resistance.
Ease in machining, sawing and drilling.
Technical Details:

Available Grade

Size


6082, 6061, 2014,
2017, 2007, 2024,
7075, 5754, 5083,
5086


UP TO
508 mm
Diameter